Thai Nguyen has been well-known in Vietnam for its hundred years of aromatic tea cultivation. Thai Nguyen tea products, drinks are popular in Viet Nam and are also highly valuable exports. In particular, the most delicious Tân Cương Thái Nguyên tea.
1. Famous tea regions in Thai Nguyen
The most famous tea from Thai Nguyen is Tan Cuong Tea. Tân Cương tea area in the midland mountainous area with red-brown soil and many narrow and flat valleys, Tan Cuong is the place with many trace elements suitable for tea trees. Formed mainly on the foundation of feralitic, acid magma and alluvium, sand stone, the soil here is slightly acrid to give a typical taste for tea here which can not be found in any other place. This special product from Tân Cương – Công River area possesses an incredibly delicious taste that can mesmerize any tea drinkers including the most picky one. Each sip of hot Tan Cuong tea pouring in mouth firstly leaves a little taste of bitter on the tip of the tongue, but that taste immediately transforms to a deep sweet when the tea is off throat.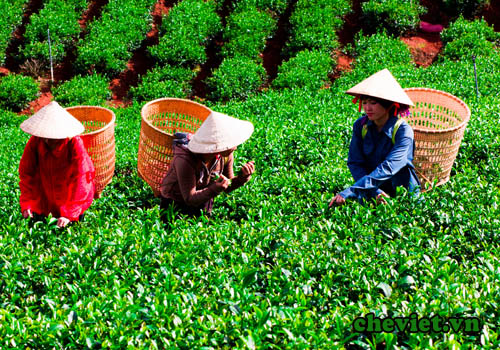 In recent years, various new tea areas have been established with unique and different tea products to serve customers in any range. Prominently among them are La Bằng, and Trại Cài tea village, in addition to deluxe tea plantations in Phúc Thuận, Đồng Hỷ, Định Hóa… Tan Cuong Tea, Thai Nguyen grows in the natural conditions in a single axis, it means that there is only one main axis on which the branches are developed. Due to the growth conditions and the different shapes of the branches, Tan Cuong Tea tree is divided into 3 types: timber body; medium body and bush. Tan Cuong Tea tree, Thai Nguyen is totally cared with organic fertilizer and free from residues of pesticides and plant protection chemicals harmful to the human health.
Minh Cường Green tea is picked with the standard "1 bud, 2 leaves" ensure the best quality tea buds in Tân Cương hill tea. Fresh tea buds and leaves after being carefully picked will be dried naturally before wilting. Then people will roast the buds and leaves in a pan with fixed level of temperature until the buds begin to curl up and desiccated. The green color now turns into black. Simple as it may sound, it is actually a very complicated process that depends much on the workers' skills to achieve the requirements of quality. Thai Nguyen tea is processed using the traditional secrets. After picking from the trees, green tea buds are stored carefully to ensure the perfect state before delivering to the factory for processing. Then, with process of modern product packaging, accomplishment Green tea products Minh Cuong.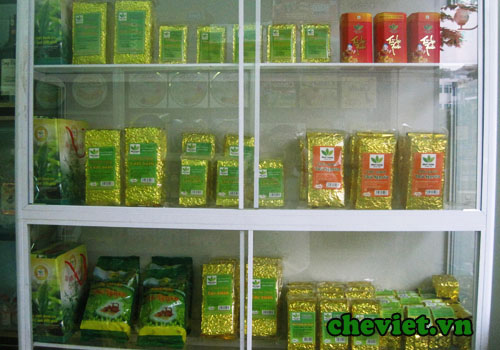 2. Why Thai Nguyen tea best quality?
No one knows exactly what makes tea products from this land so charming like that some attribute it to the climate, some suppose soil is the reason and some also say experienced hand of farmers create the specialty. With Tân Cương Thái Nguyên tea-brand Minh Cường, this of dark green color, tightly curled and small with white dots on the surface. Tea color is of pure green, light yellow and viscous. Tan Cuong grean tea has sweet acid taste and harmonious and almost no bitter taste when drinking. The tea smell is sweet, comfortable and fat as the smell of country green rice. However, those are concerned by agro-scientists or tea researchers only, and for tea drinkers in Vietnam, they care more about how they can have a hot tea pot with real Thai Nguyen tea inside, and enjoy each drop of that fragrant beverage.
Well come to Thai Nguyen, you are supposed to focus on Thái Nguyên tea elites, unique tea processing methods and numerous other aspects of Vietnamese culture and society from cuisine to tourism and art.